Products
TTT Utility Poles are TTT Poles that have been drilled, gained, scarfed, and tagged for use as power transmission poles or telecommunication poles.
TTT Products manufactures each TTT Utility Pole to the exact requirements of the customer - length, diameter, gain profile, holes sized and drilled as per details provided - to ensure the customer receives exactly the pole they need for their specification.

TTT Utility Poles are often TTTested (proof-tested) when a particular load bearing requirement needs to be met. They are individually proof-tested after all machining and treating, using our unique Certified Pole Tester. TTT Utility Poles are usually tested using a 3-Point Test at the ground line.
All TTT Utility Poles are reliably top quality, Radiata Pine poles, manufactured either from naturally tapered TTT SED Poles, uniform diameter UniLog Poles, or our hollow core TTT MultiPoles. Each TTT Utility Pole is carefully graded and selected for straightness, regular sizing, and consistent quality.
Every TTT Utility Pole is processed to ensure an even finish and treated to H5 Hazard Class to provide protection against fungal and insect attack in an outside, in-ground, critical use situation.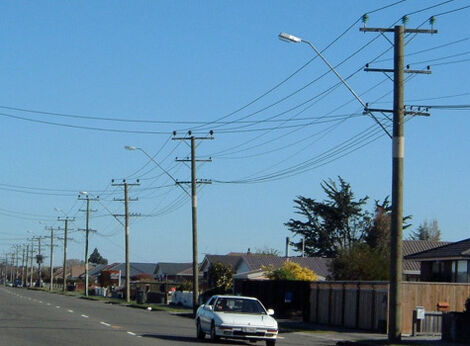 Use TTT Utility Poles specifically for:
Telecommunications
Power Transmission
---
TTT Quick Info:
Radiata Pine
TTT SED Poles, UniLog Poles, TTT MultiPoles
Diameter range: 150mm to 550mm SED
Length range: 3.6m to 18m long
H5 Hazard Class, either CCA (ex stock) or ACQ/MCQ (per order) treatment
H6 Hazard Class available per order (see TTT Marine Poles page)
TTTested - proof-tested poles available (see TTTested Poles page)
Drilled, Gained, Scarfed, and Individually Tagged
Complies with NZS3605:2001 Timber Piles and Poles for Use in Building
Complies with NZS3640:2003 Chemical Preservation of Round and Sawn Timber
No gallery images for this product....
No videos for this product....