Products
TTT Uglies have most of the same characteristics as TTT SED Poles with one important difference - they are debarked instead of peeled. Debarking results in a stronger pole - about 6% stronger than a TTT SED Pole - due to less removal of the cambium layer. The rougher finish of TTT Uglies also make them particularly useful for foundations where skin friction is important.
However what you gain in strength you compromise in looks. TTT Uglies have a rougher finish making them more suited for use in situations where they are unseen.
TTT Uglies are still reliably top quality, naturally tapered, Radiata Pine poles. They are also carefully graded and selected for straightness, even taper, regular sizing and consistent quality.
Every TTT Uglie is treated to H5 Hazard Class to provide protection against fungal and insect attack in an outside, in-ground, critical use situation.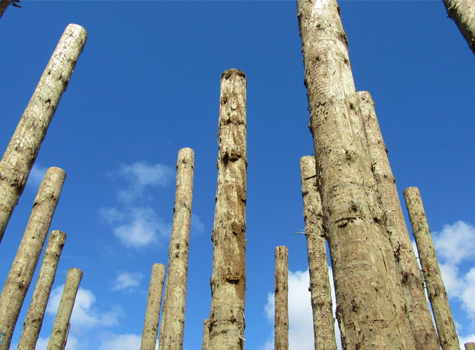 Use TTT Uglies specifically for:
Construction & Retaining Walls - especially ground covered walls

Foundations
Ground Improvement & Stabilisation
Installation via Pile Driving, Drilling & Concreting, or Vibration
---
TTT Quick Info:
Radiata Pine, Debarked
Naturally tapered: 6mm per metre
Diameter range: 150mm to 550mm SED
Length range: 1.8m to 22m long
H5 Hazard Class, either CCA (ex stock) or ACQ/MCQ (per order) treatment
H6 Hazard Class available per order (see TTT Marine Poles page)
TTTested - proof-tested poles available (see TTTested Poles page)
TTT MultiPole - unique hollow core poles (see TTT MultiPole page)
TTT Protect - sleeved poles available to order (see TTT Protect page)
Economical option
Complies with NZS3605:2001 Timber Piles and Poles for Use in Building
Complies with NZS3640:2003 Chemical Preservation of Round and Sawn Timber
Click a file to download it.
TTT Poles Brochure

PDF | 3.01mb | Download

TTT MultiPole Brochure

PDF | 1.46mb | Download

TTTested Brochure

PDF | 1.61mb | Download

TTT Retaining Wall Guideline RW00...

PDF | 331kb | Download

TTT Retaining Wall Guideline RW00...

PDF | 330kb | Download

TTT Retaining Wall Guideline RW00...

PDF | 280kb | Download

TTT Technical Guideline SED001 - ...

PDF | 178kb | Download
No videos for this product....